Did you see the news last Thursday? Earth Overshoot Day grabbed the attention of people all around the world, as it was a staggering reminder of the impact humans are having on the planet and how our energy consumption is dictating the future.
What is Earth Overshoot Day?
Earth Overshoot Day was on July 28th and it marked the moment when humans used up all the resources that the Earth can regenerate in a year.
How is Earth Overshoot Day calculated?
Earth Overshoot Day is calculated by dividing the ecological resources the Earth regenerates in a year by human demand, and then multiplying that by 365 (or the number of days in a year).
Resources the Earth regenerates in a year / Demand from humanity x 365
Using statistics from the United Nations, the National Footprint and Biocapacity Accounts use the most recent data available and the most updated accounting methodology.
To be consistent with recent data and the latest scientific developments, metrics from 1961 to today are recalculated annually. This means that each year's metrics will share a common data set and use an identical accounting method.
The 2022 Accounts feature 2018 data.
Have we always used more resources than the Earth can regenerate?
1971 was the first time humans used more resources than the Earth could regenerate in a year. Every year, Earth Overshoot Day gets earlier and earlier in the year.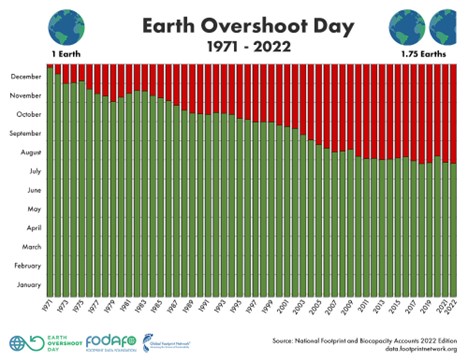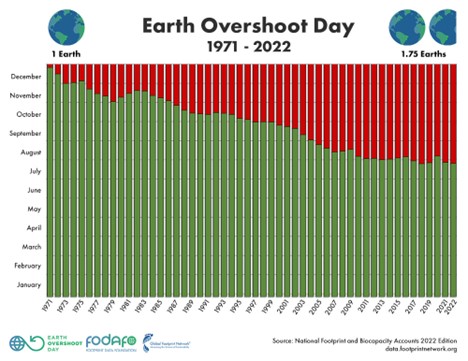 Did the pandemic affect Earth Overshoot Day?
During the first half of 2020, when people around the world were in lockdown, there was drop in used resources which is reflected in 2020's Earth Overshoot Day.
These are the Earth Overshoot Days from 2017-2022:
August 1, 2017
July 28, 2018
July 29, 2019
August 22, 2020
July 30, 2021
July 28, 2022
If we only counted U.S. consumption, would the date improve?
Unfortunately, if we only calculated U.S. resource consumption, the date would actually worsen. The world's Earth Overshoot Day was July 28th, but the U.S. Overshoot Day would've been 4+ months ago.
Here are some individual country Overshoot Days: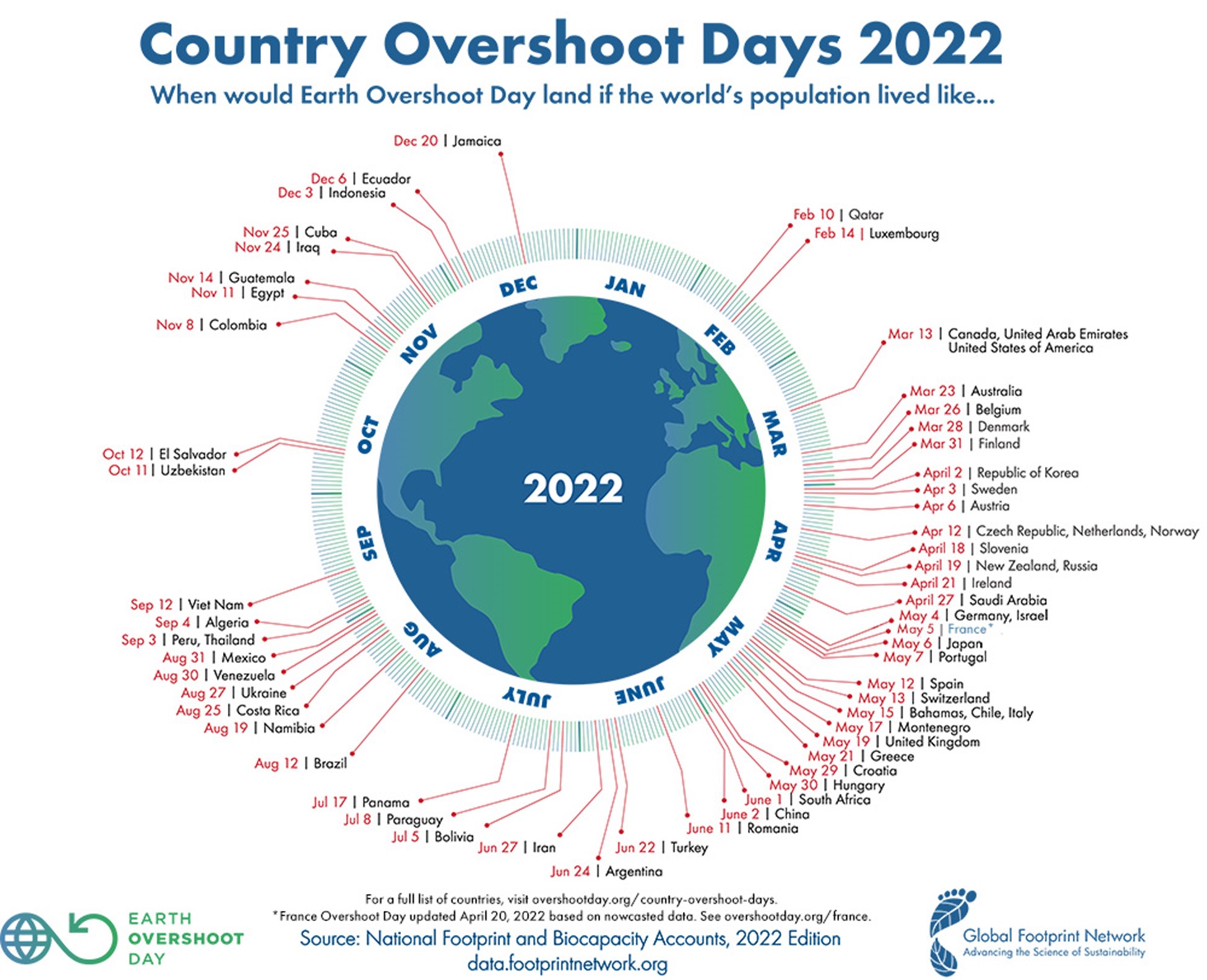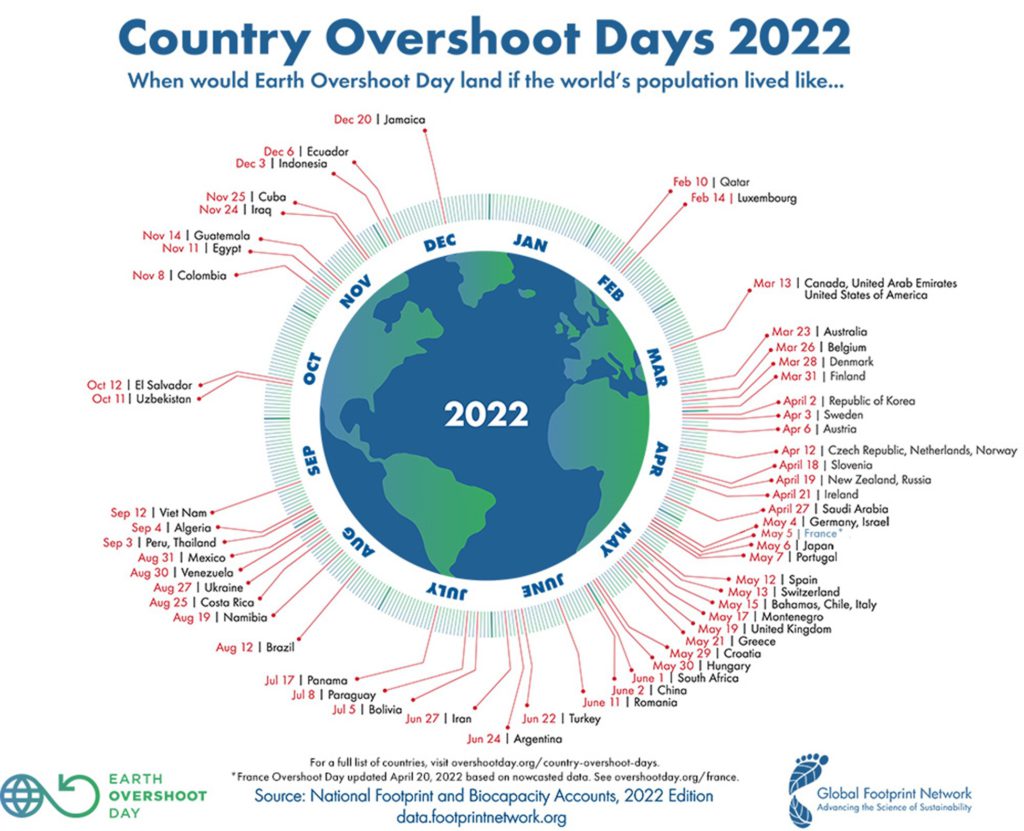 How can I help?
Global Footprint Network, the organization that does the Earth Overshoot Day calculations, has put together a list of solutions that will help move the date. Here are some examples they provided and how many days it would push back Earth Overshoot Day:
Multi-family building retrofit – 5 days
Single-family building retrofit – 7 days
Building electrification – 4 days
Heat pumps – 2 days
We still have approximately 5 months of consumption left, after having already used all the resources that the Earth can regenerate in a year. According to Energy Circle, "at this pace, humanity's yearly ecological footprint will be twice what the planet can generate well before the mid-21st century."
Together we can reduce energy and save our planet. If you're interested in making improvements to your home to lessen energy waste and save money on energy costs, call HomeWorks Energy at (781) 305-3319 and ask about our no-cost Home Energy Assessment, offered through the Mass Save® program.
We'll come out to your home and show you how your home is using and losing energy. We'll give you a custom home energy report to keep and we'll explain all savings opportunities to you. Because we're a Mass Save partner, we can help you access discounts and rebates to make your home more energy efficient the affordable way.
Mass Save rebates and incentives include no-cost air sealing, 75-100% off insulation, up to $10,000 in heat pump rebates, and no-cost items like programmable thermostats, advanced power strips, faucet aerators, and energy-efficient shower heads.
To access Mass Save rebates, get a Home Energy Assessment (at no-cost) by calling (781) 305-3319 or click here to schedule online.
We're looking forward to helping you – it's our mission to help our neighbors reduce their carbon footprints and steer our planet to a brighter future!
To learn more about Earth Overshoot Day, click here.
Resources: